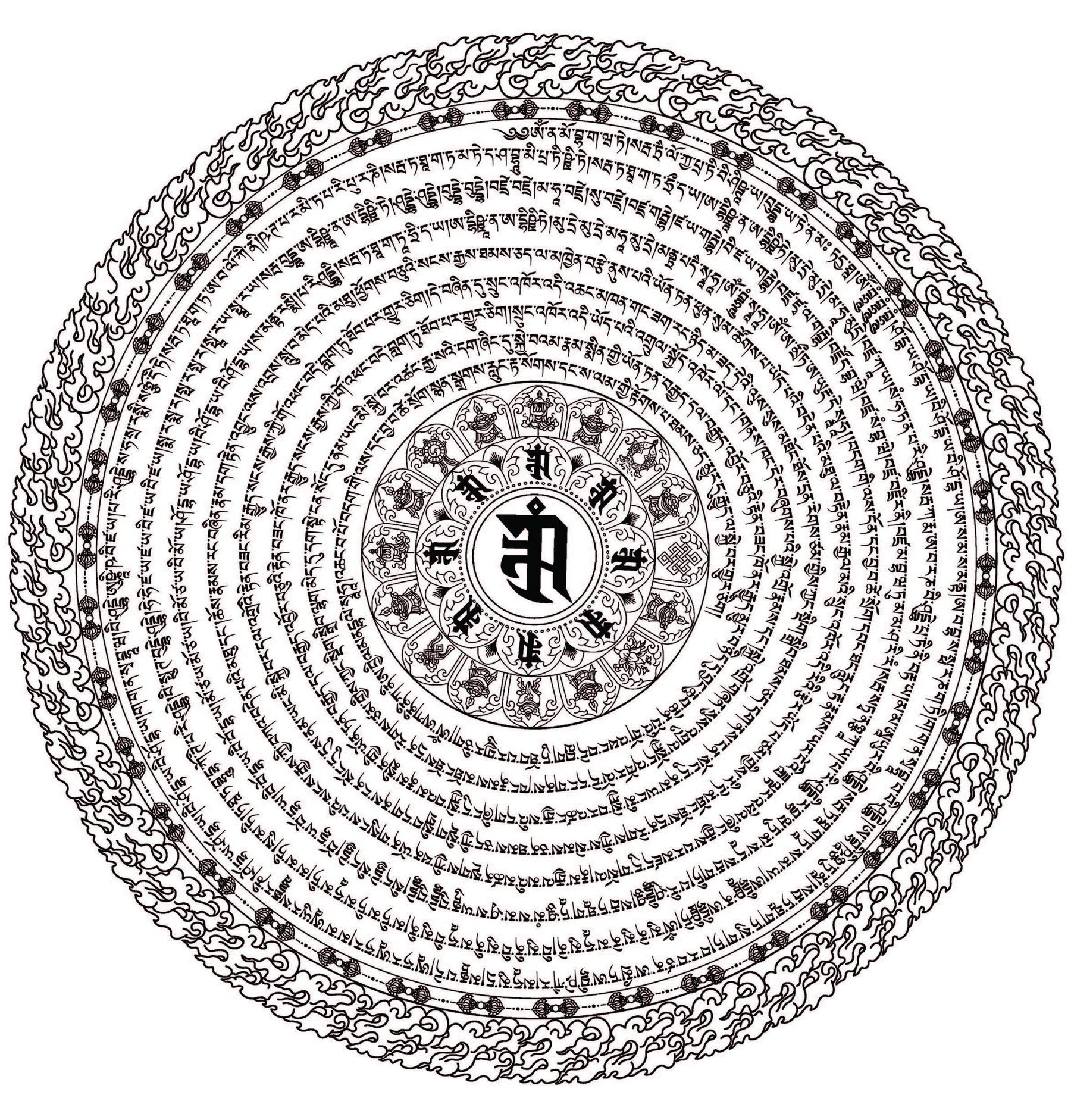 The Ushnisha Vijaya Dharani Mantra Prayer
A Revered Buddhist Healing Prayer
 NAMO BHAGAVATE TRAILOKYA PRATIVISHISTAYA BUDDHAYA BHAGAVATE
TADYATHA OM VISHUDDHAYA-VISHUDDHAYA ASAMA- SAMA SAMANTAVABHASHA- SPHARANA GATI GAHANA SVABHAVA VISHUDDHE ABHINSHINCATU MAM SUGATA VARA VACANA AMRTA ABHISHEKAI MAHA MANTRA-PADAI
AHARA-AHARA AYUH SHAM-DHARANI SHODHAYA-SHODHAYA GAGANA VISHUDDHE USHNISHA VIJAYA VISHUDDHE SAHASRA-RASHMI. 
SHAMCODITE SARVA TATHAGATA AVALOKANI SAT- PARAMITA PARIPURANI SARVA TATHAGATA MATI DASA-BHUMI PRATI-STHITE SARVA TATHAGATA HRDAYA ADHISTHANADHISTHITA MAHA-MUDRE
VAJRA KAYA SAM-HATANA VISHUDDHE SARVAVARANA APAYA DURGATI PARI-VISHUDDHE PRATI-NIVARTAYA AYUH SHUDDHE
SAMAYA ADHISTHITE
MANI-MANI MAHA MANI TATHATA BHUTAKOTI PARISHUDDHE VISPHUTA BUDDHI SHUDDHE. 
JAYA-JAYA VIJAYA-VIJAYA SMARA-SMARA
SARVA BUDDHA ADHISTHITA SHUDDHE
VAJRI VAJRAGARBHE VAJRAM BHAVATU MAMA SHARIRAM SARVA SATTVANAM CA KAYA PARI VISHUDDHE SARVA GATI PARISHUDDHE
SARVA TATHAGATA SHINCHA ME SAMASVASAYANTU SARVA TATHAGATA SAMASVASA ADHISTHITE BUDDHYA-BUDDHYA VIBUDDHYA-VIBUDDHYA BODHAYA-BODHAYA VIBODHAYA-VIBODHAYA SAMANTA PARISHUDDHE
SARVA TATHAGATA HRDAYA ADHISTHANADHISTHITA MAHA-MUDRE SVAHA. 
A Sutra for Troubled Times
The Ushnisha Vijaya Dharani Mantra
 Purify Karma, Eliminate Illness and Prevent Calamities 
The Ushnisha Vijaya Darani prayer is an extremely important spiritual prayer of compassion.
This Blessed mantra-prayer was gifted to us by Lord Buddha.
It has several very special benedictions and powers. 
This prayer of Grace also has the power to sanctify life and to bestow liberation from bondage from the lower energies and entities for the mind and the soul. 
The Devotional or Bhakti recitation of this prayer can eliminate all evil karmic hindrances and eradicate the suffering of all evil paths.
After devotional recitation of The Ushnisha Vijaya Darani all Anarthas or unwanted energies are removed from the soul.
This prayer also has the power of Moksha or liberation and to also free parts of the soul trapped in the clutches of lower influences. 
Devotional recitation of this prayer will embrace and protect all souls, who hear the prayer, from falling into the sea of birth and death or samsara.
Devotional recitation of this prayer will also eliminate any possibility that the soul may end up in a hell-like existence in the next life.
Devotional recitation of this prayer will prevent a person from being able to commit an evil deed.
By faithfully and devotionally reciting this prayer while envisioning with love the Murti or form of The Goddess Ushnisha Vijaya, the cycle of physical birth and death is ended. 
Hearing this prayer, even for just a moment, all karmic retribution and all severe hindrances, which have been accumulated from hundreds of thousands of lifetimes, become absolved.
The hearing and the devotional recitation of The Ushnisha Vijaya Darani prayer of Grace eliminates all possibility of incarnating in lower life forms such as hungry ghosts, animals, dark realms, insects, snakes, crawling creatures and other undesirable lower life forms. 
Owing to the merits accrued from hearing this magnificent and wondrous prayer, even for a moment, once this very life has completed, the soul will be reborn in the heavenly worlds. Or, as a choice, the soul will be reborn in a distinguished, wealthy and reputable family on earth. 
Such are some of the blessed merits of this prayer. 
The Magnificent Blessings and Merits of The Goddess Ushnisha Vijaya and Her Mantra: 
*Eliminates all afflictions and karmic obstructions.
*Destroys all kinds of suffering of sentient beings in the evil realms.
*Enables sentient beings to receive the complete protection of all Bodhisattvas.
*Her mantra, The Ushnisha Vijaya Darani, can annihilate all the suffering of the hells, the realms of King Yama, and the animal realms.
*The merit of this mantra recitation can be dedicated to the virtuous realms.
*If one is fated to die young, one may live a long life.
*By reciting this mantra, one eliminates the accumulated sin and negative karma of millions of kalpas of lifetimes. *Wherever one is reborn one will always encounter the compassionate Buddhas and achieve the highest Bodhi and love.
*Upon shedding the physical body one will be reborn in the wonderful and marvelous buddha lands.
*By reciting this dharani one utterly destroys and completely obliterates the suffering of all the hells, the animal realms, the netherworld of King Yama, The Lord of Death , and the realm of Hungry Ghosts.
*The Sacred Goddess Ushnisha Vijaya (Tibetan: tsug tor nam par gyal ma. English: Victorious Crown Ornament): goddess of long-life, white in colour, with three faces and eight hands, seated inside a stupa. 
"Ushnishavijaya, the colour of an autumn moon; with three faces, white, yellow and blue and eight hands. Each face has three very large eyes. The first right hand holds a visvavajra, second a white lotus with Amitabha residing, third an arrow and the fourth in supreme generosity. The first left holds a vajra lasso, second a bow, third bestowing protection and fourth in meditative equipoise holding an auspicious nectar vase; complete with silks and jewel ornaments, seated in [vajra] posture. Within the outer circle of the stupa, on the right [side of the chaitya], above a moon is Avalokiteshvara with a body white in colour; the left hand holds a lotus. On the left [of the chaitya], above a sun is Vajrapani, blue; the left hand holds an utpala with vajra; standing in a peaceful manner and adorned with silks and jewels." (Jamyang Kyentse Wangpo, 1820-1892). 
Ushnishavijaya is often accompanied by the deities Amitayus and White Tara. Together they are known as the Three Long-life Deities of Tantric Buddhism. The practice is common to all Schools of Tibetan Buddhism.