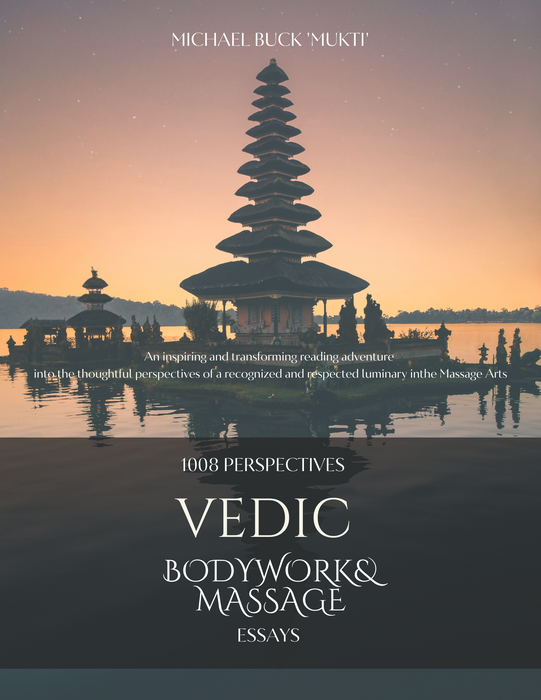 Vedic Bodywork & Massage 1008 Perspectives (Essays Book)
Want Refreshing Insights and Inspiring Perspectives into the Moments that Comprise a Healing Bodywork Session?
DIVE INTO THE MIND OF DEVOTION, SUCCESS, AND EXPERIENCE

Massage and bodywork therapists will benefit profoundly!

 Mukti's writings express accomplished experience and valuable descriptive 'snapshots' of the many occurrences that constitute any typical treatment.

Not bibliography based or with academic reference, yet Mukti's essays, not but a page or two each, present keen orientation and indispensable contributions for his colleagues in the healing arts.

If you, as a healer, are looking for illuminated explanations from one of the most respected and well-known leaders in the Body-working Arts, saturate yourself with these earth-based and organic theoretical and philosophical insights.

Authoring titles such as:
You Don't Have to Go and Get It
A Mountain Descending Into the Ocean
The Transition is Equally as Important as The Application
Listening for the Echo
Fifteen Other Ways
Pre-Treatment Mindsets
Sets of Threes
Puja - Wai Khryu
Parent-Child PC Communication
What is The Distraction Method?
Mistakes
What is a Psychic Disconnect PD?
Tratak Meditation-Re-Activation of The Third Eye
Primordial Resonance
Every Moment Every Movement is a Temple
and many more, Mukti's purpose in writing is obvious; to perpetuate inspiration and strength for his contemporaries and to share seasoned clarity in theory and technique.

Encompassing a dedicated private practice and international teaching of close to forty years, The Essay Book is a Compilation of Fifty Four Essays.

138 pages